Tuesday, November 01, 2005
*~*~*~*~*~*~*~*~*~*~*~*~*~*~
Ivan's Bday Lunch
Our dear Ivan celebrated his birthday on saturday. We havnt met for quite some time ago.. So busy with my lance that I dont have time to organise ktv sessions.. I want to go ktv =( Who wants to go??
We had lunch at sakura toa payoh. It was pretty good. =) thanks ivan! for the treat. I hope you like the present me and Gerald chose. =)
It was a card holder. Think winston, ppm and the others didnt get the chance to see it. Wasnt the latest design though cos we both felt that this design looks more hip. Yeah.. hip to the hop to the hip, so we got it.. :D
the lovely couple zen and ivan.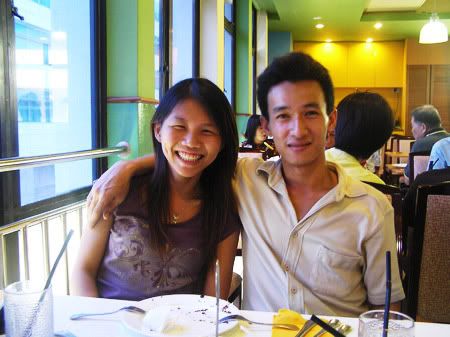 Gerald happily holding the No. 23 table tag wearing his new "有墨水" tee..Yeah.. I know you have 墨水, it's all over your tee.. -_-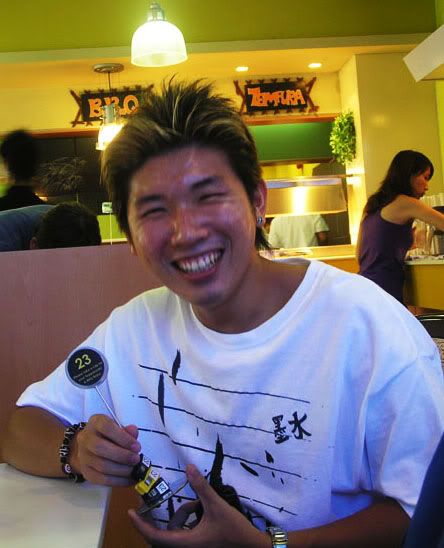 His hair wasnt so bad after all.. it's bright but it's fading. So dont be too sad la hor..Free one neh..wat u want?
I have been practising lance so much so that my lower back hurts. I think I didnt do enough stretching. Felt the hurt yesterday when I went over to gym for my combat classes.. but strangly enough.. I felt so much flexible too. I could touch the floor without bended knees. Hurray! In the past, even with my legs open, the floor just seems like a very faraway dream..Now I could put 4 fingers on the floor hahah! I didnt realized it until yesterday.
It's something to be joyful about. hee hee
~~~~~~~~~~
Joy yesterday told us we will be having a Christmas Party and we need to plan some games and all...My suggestion is...
We shall play....
終極密码!!
-__-!!
Kiyo 到此一游 @ 9:58 PM