Thursday, September 08, 2005
*~*~*~*~*~*~*~*~*~*~*~*~*~*~
It's less than 2 weeks till my hols..
I'm checking all the resources and planning where to visit. It seems like I plan alot of Shopping time.. I wonder whether there IS any good place to shop anot wahhaa. This will really be a good break for me although I still feel that a 6 days trip is pretty short.
I went to see the video that was taped during my meeting on Sat by
Mediamorphosis
. I was supposed to inform them which are the important parts to include. It was rather interesting as this was the first time I actually participated to decide the video editing part and the music for the montage. I chose jazz haha. Although the creative part like graphics etc will be left to the professionals, I was quite glad that my boss trusted my "センス" and left me to be in charge.
But... the first thing I say when I saw myself on TV was.. ....

"Why my hair so messy!?!?"

I was like.. HUH?!? My hair was SO messy lo. I didnt comb my hair that day meh? I did wat..I told that guy to try not to include too much of me in the video. It will be best if he could totally exclude me OUT , cos i look like a siao char bo.

Some pics

Bad "pong pong" hair day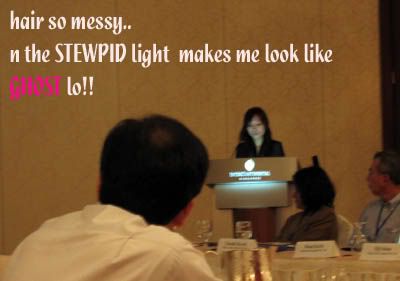 During the dinner.. the dress that has NUTTING to do with Singapore.. -_-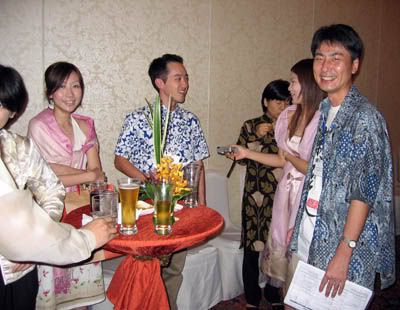 ~~~~~~~~~~~~~~~~~~~~~~~

Met up with my sis for a while just now at Bugis as she sold me her shades. It looks so retro and she got it in bangkok. SO now.. it's MINE. buhahha
I got it from her at 12 bucks. hmmf.. I want to go bangkok too! Die Die will go end of this year. Winston was telling me the prices of their service apartments or even suites and told me it's better to stay in suites cos we can only live like a king or queen in bkk..

Darren said it's still very cold in Perth. Bought this off shoulder sweater yesterday to wear in Perth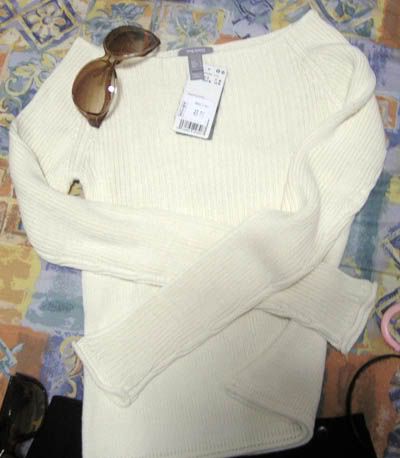 Bought mooncakes yesterday too!

My favourite.. Marriot durian mooncakes..oishii!
My parents lurve to get those traditional 大中国 ones which I have been eating for YEArsss. Maybe I'm going to get some of those that i like.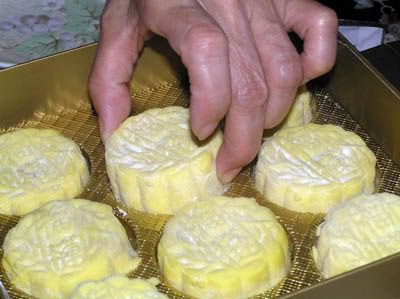 Went to taka square to take a look at the mooncake fiesta yesterday after dinner. It was packed with people especially around the counters of Raffles Hotel. I wanted to sample their champagne truffle mooncake but it wasnt available for sampling.. =( So I sampled the mocha truffle instead. (UOB have discounts for it.. I think I'm going to grab a box of champagne ones once I finished my durians haha).

The mocha truffle was quite good too. I think mooncakes do help in lifting the mood up. Just walk one round in taka square, bao cure all depressions!

Must get!! Walnut mooncake of Wah Lok restaurant! Not as if they are delicious (cos I never tasted them before and I dun really care) it's becos if you have the 'dun noe which credit card', they will give you a complimentary Walnut scrub FOC at some spa!

EAT MOONCAKE.. and DO the SPA at the same time..good! hur hur
Kiyo 到此一游 @ 10:20 PM