Monday, August 08, 2005
*~*~*~*~*~*~*~*~*~*~*~*~*~*~
Over the Weekend
What did I do?
1. 2nd exotic dance class
2. Shopping with Esther and Ppm
3. Teahouse dimsum with Mum n Dad
4. Changed my blogskin..
~~~~~~~~~~~
2nd exotic dance class n shopping!
We learnt something new today and it was real fun! I call it the "Hip Butt Sway & Sway"
(oh. wat a lousy name)
. It was those kinda moves that people who dont know how to dance will OSO look sexy. My kitten crawl was better today as Joy lent me her kneeguards! hee hee. I realized with those knee guards, I could slide better and not just crawl in pain and wish that the whole crawling part will be over ASAP. At least, i enjoyed my crawl and next week, we shall upgrade to WILD CAT CRAWL... yeah!whahah
Her friend came in and took some pictures for their keepsake. Saw those previews and we STILL look like Sadakos in action but all in all, it was a fun class. =)
Went home after that for a change before meeting Esther and Ppm at FEP for some serious shopping! It was the first time I shopped with the both of them. Okie.. previously, shopped with ppm before but it was only for a short while, we did some serious shopping on saturday.. I mean
ESTHER
did some serious shopping. hahaha
We spotted some racer backs going for 10 bucks at a shop in level 1. The cutting fits very well so we decided to buy one each!
I bought 2! And shopping princess ppm changed on the spot to her bright pink racer =)
Her bf and his frens came and joined us later. They love shopping too so we decided to spilt up. It's quite fun shopping with them cos..
1stly :
Esther is the REAL shopping Queen. She bought a boho skirt, 2 sets of beads, 1 pair of earrings, & 1 racer back! Let me see if I left anything out...
It's really very fun to see somebody spending more than you. hur hur hur.. You dont get the guilt, you know what I mean?
2ndly :
The guys were looking at their stuff as well and they bought shades in Topman. hey hey... looked really great on them. Butthen they took quite a long time in front of the mirror deciding which is good.. haha. would really like to see them wear those.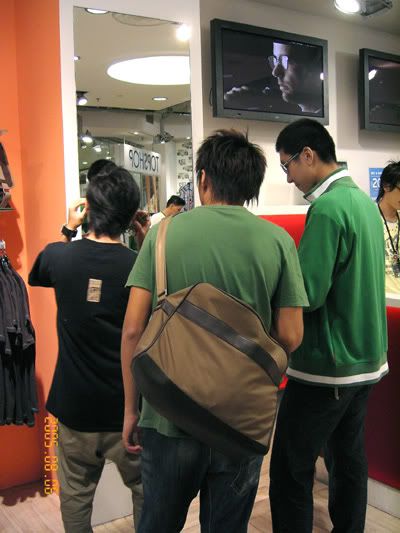 Green is really the HOT colour of the season.
As usual, I kiv-ed some stuff like a knitted bag in FEP and some cropped jackets too.
Me n esther in Topman waiting for them to try out their shades. I decided to pose too!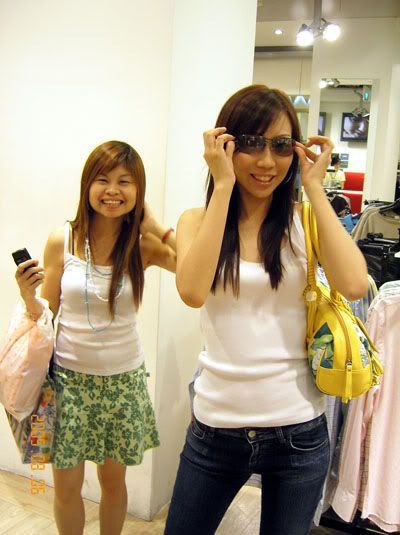 ~~~~~~~~~~~~~~~~~
Teahouse dimsum @ China Square on Sunday!
Yummy. Ambience was quite nice but dad was complaining n complaining about the difficulty of finding a carpark lot. Actually it's not really difficult to find a lot, he just likes to complain...
Quite delicious.. =) Red star is good too but quite oily. this is definitely not!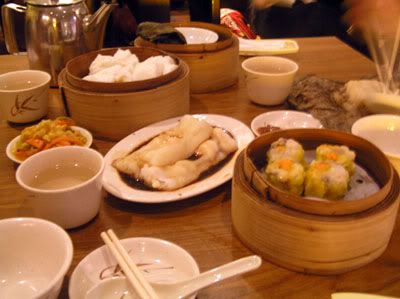 Dis is not tissue okie.. it's 灌汤饺.. this is good man.. 6 bucks per bowl.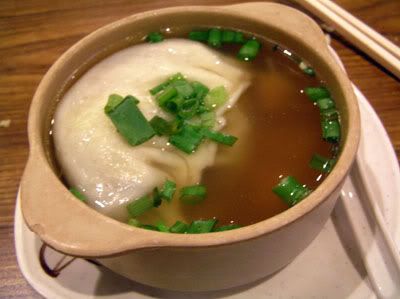 I've got 15% discount cos of the tunglok card that is part of the citibank gourmet pleasures promotion. Till end december!
Kiyo 到此一游 @ 9:26 PM