Monday, August 01, 2005
*~*~*~*~*~*~*~*~*~*~*~*~*~*~
Let's get sensual..
Okie.. I thought it was a shake your bon bon class.
NO it was not. It was a touch your bon bon class.
Went to the xotic dance trial at sensualj this evening with ppm and esther. It was quite fun as it was a total new experience for me. The stretches were good. It's been such a long time since I had such a good stretch of my calves and thighs.
The only difficult part was that we had to do them SLOW.. real S..L..O..W to feel the sensuality and sexiness within us while we stretch. OKIE, for somebody who has been doing combat for some time, slow actions are really difficult (Or maybe I am just PURE IMPATIENT), I was practically doing a fast forward version of the instructor's movements.. -_-
There were alot of lower body movements and floor movements during this trial. From leg movements like flirts, to Goddess posture and we were encouraged to feel and touch our body more.. which was
GOOD
. I never realised i have such a fat butt.
The part that I enjoyed most was the sensual walk. It was the easiest. We were supposed to drag our feet and walk in a criss cross manner in a
(YES you are right again)
SLOW & SEXY manner.
The worse was the kitten crawl. We were on our knees crawling.. We were supposed to let our hair down and just crawl sexily. I was trying to control not to laugh half of the time cos I dont understand how come I look more like Sadako crawling out from the TV than a kitten. Besides, the room was full of poles everywhere, I was scared i would knock into one, that aint too sexy right?
It's something like dis...

(yes, i failed my art)
But the instructor's dances were very nice! *applause* (of course, 7 years neh!)
I think I need to crawl another 10 years man..
Now I'm tempted to try the Pole dancing too. Initially I thought maybe pole dancing seems kinda sleazy and besides that WHO WILL WANT TO SEE A TEKKO DANCE WITH A TEKKO???
(it will be like 2 tekkos man..)
But then.. I really want to give myself a new challenge. =D
So can I be sensual or sexy? hmmmm..Let me give myself 8 more chances to find out.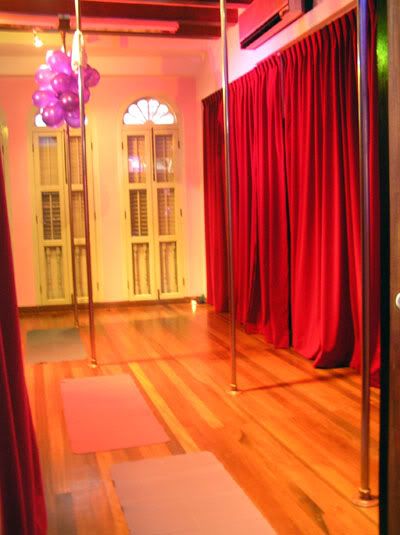 Esther, Joy & Me!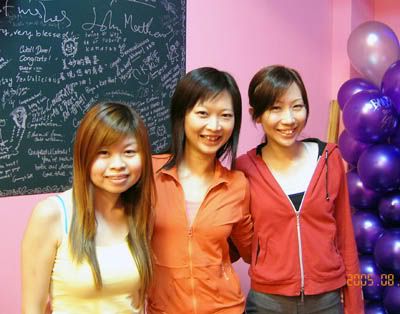 Kiyo 到此一游 @ 11:32 PM