Friday, August 05, 2005
*~*~*~*~*~*~*~*~*~*~*~*~*~*~
Did I say anything about banning shopping?
I think I didnt. I think I forgot. I think... Dont care la!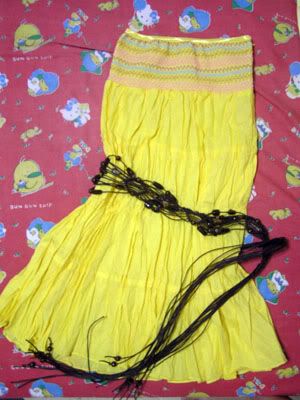 Bought a tube dress today! Really love the colour yellow, goes very well with my new bag and can team with my jeans too!. Hoho.. I lurve the colour of sunshine.
Tomorrow will be quite a fruitful day. Going for the 2nd lesson of exotic dance. I think I will be back with MORE
or che
but then, xdd told me that he will lend me his knee guard
(those thinner kinds, dat are supposed to wear under your pants.. not those big kinds for roller blades hor..)
, will get it from him next time i meet him. Shall go to Little India either before or after my lesson for...
THREADING!!
I'm still thinking of whether I should do the whole face or just brow only or do my brow and upper lip. hahahha.
This gonna be a pampering weekend. I shall do alot of DIY body treatments! It's been such a long time since I pamper myself.
Kiyo 到此一游 @ 10:07 PM