Saturday, June 04, 2005
*~*~*~*~*~*~*~*~*~*~*~*~*~*~
Yes, I need milk
Was in carrefour when i saw this.. i find it quite lame so decided to ask gerald to take a picture yesterday.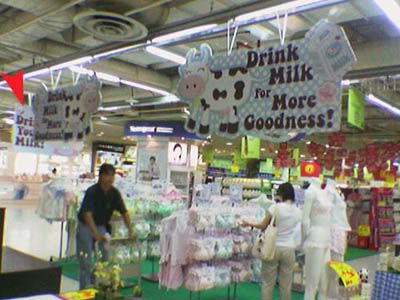 Drink milk for more goodness?!!? and below was some lingerie.
-_-''
I dont see the link between the cow, the milk and those bras they are displaying there. So does it mean that we get bigger assets by drinking more of their milk huh... wah.. than please give me gallons of them man.. i
SERIOUSLY
need it.
(& my sis was still suaning me today about me 该有肉的地方没有肉 haha! sigh...aiming at my big bottom)
I was laffing like mad aledi when i saw another one stating...
DRINK YOUR MILK..
(they just want to drive their point straight home)
whahahha.
~~~~~~~~~~~~~~~~~~~~~~~~~~~~~~~~~~
xin, jiafa and kuainiang came over to my place to practice our items during the wedding. So before they arrived, i decided to clear up my room and guess what i found!?
an
ANGPOW!
with money in it!
(although it's only 20 bucks..surprises are always welcomed)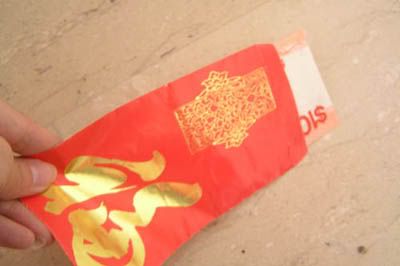 I realised it is good to clear your stuff once in a while.. can always find some unexpected stuff, or unexpected money lying somewhere.. or maybe things that were lost will miraculeously appear as well. I found my Tangs voucher too. $60! going to tangs tomorrow to see whether i can get anything.
Our practice session went on fine.. Kuainiang will be singing Lover's Concerto. Her voice sounds so angelic with jiafa's guitar accompaniment. And jiafa will be singing a duet with me.. it's kinda tough and we only have another practice session and we need to blend nicely together.. he tends to play his guitar faster and faster and made me feel like we are rushing. hahah.. but i guess all these will be better the next time round.
Went orchard after that and persuaded xin to go shopping with me. Bought 2 skirts and a pair of earrings today! I was really lucky to get the 20% discount at Warehouse in marina square. It's only today till midnight! xin wasnt so lucky though.. she got her top at the orchard outlet without the discount..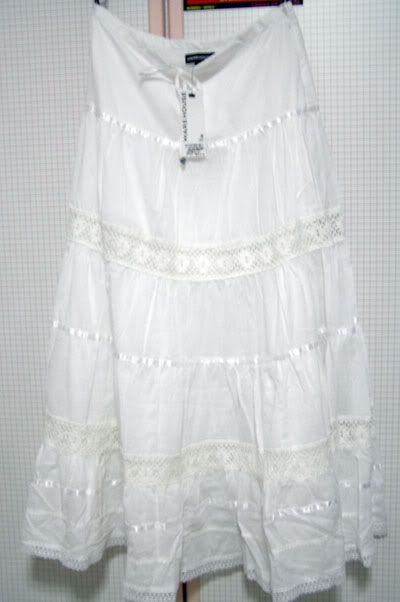 I lurve this ankle length skirt..
The new marina square seems really interesting buthen it's so far! i walk until i'm going to vomit blood..
Bought this cos there was 20%.. hee hee..
Kiyo 到此一游 @ 10:30 PM