Monday, June 06, 2005
*~*~*~*~*~*~*~*~*~*~*~*~*~*~
No Monday Blues today!
Zen went to her first combat lesson yesterday..Are your arms aching now, zen?
i was worse when i had my first lesson 2.5 years ago. I couldnt coordinate my jabs and kicks and i was puffing like a dog.And to make it worse.. my sister was staring at me most of the time for embarrassing her in the gym..
Went to sushi tei to eat our lunch. It's been such a long time since i ate there. after that shopping time!
We need to get something for Alan cos his 21st bday is coming soon.
yesterday was lingerie day. must thank Zen for being so patient waiting for me to get them. I think she waited for at least 45 minutes as the queue was darn long, there were only 2 fitting rooms and i queued up twice.. hee hee
And oso thanks to my lingerie stylist........ Pep for giving me good recommendations so i waste lesser time there man..I feel that i can dance to Jolin's song now..
UP UP
抬起头,
UP UP
别害羞......
wahhaha.. LAME
Zen got a boho skirt at far east plaza! yeah! now i have 3, pep got 1, zen got 1 too! Let's wear them out together next time we meet..
3rd Bohemian skirt i got.. bought it last weekend!
(this is the one that i think it looks like brown but actually it IS a dark green piece..)
(pardon the blur pics..i only have my phone cam..)
Then the person from the
"wrong crowd"
dropped by.. and attempted to spite me by helping Zen to carry her bag. HNG! :P
Anyway, he passed his driving test today!
Yeah! !
You made it despite those answers from that StEwpId Book!
Congrats!

~~~~~~~~~~~~~~~~~~~~~~~~
My boss gave me my favourite task today.
I went shopping during office hours!
And it is official business! he gave me a budget to buy some Swarovski crystal for his subordinate. I was thinking to myself..with that KIND of budget, he can actually get something more presentable from LV or Tiffany like pocket diaries or cuff links etc. Swarovski crystals are so.....ornamental..
Although the present is not for me, i enjoyed the process of looking at other stuff while searching for the gift.. hee hee
I saw a pair of beaded birkis lookalike in Peddar Red at takashimaya just now. Too bad.. dont have my size.. i hate it! argghhh!
But... i'm starting to love my job!
So Happy today that i decided to take some pictures...
Me after work..still VERY MUCH alive..
Okie.. This looks a little scary.. but i used my new mascara today! Fasio is really good! After 10 hours, the curls still hold and didnt smudge one bit.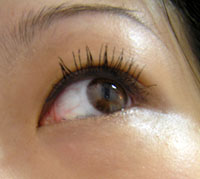 Kiyo 到此一游 @ 9:35 PM