Friday, June 10, 2005
*~*~*~*~*~*~*~*~*~*~*~*~*~*~
My lunch time shopping is BV (bugis village)..
Her lunch time shopping is LV (louis vuitton)
Went with her during lunch today as she reserved a bag. It cost a whopping $2000. She wanted my opinion on that bag.
According to her, she wanted somebody with good taste to see the actual thing.. ahem
*actually she kinda like it so much but everybody was dissuading her from getting it cos it's totally irrational to get such a small bag at that price. I guess she wanted somebody as irrational to support her decision*
I saw the bag on their webbie, seriously, it didnt look that good, plus it's denim, not worth the price at all. And it's so small! You can hardly put anything else besides your keys, hp, maybe a card holder and ur makeup.
But the real piece is VERY cute and unique.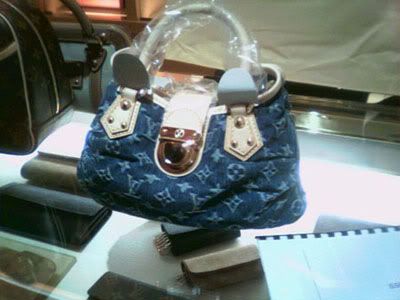 Her hubby thinks that it is
"破布一个"
and REFUSES to sponsor her.
But our motto remains : "If you think that you will feel happier getting it, Get it! "
She bought it. I hardly need to egg her.
She says that she will keep me informed if there is a Gucci sale..
I think I will stick to my BV...
Kiyo 到此一游 @ 11:06 PM