Wednesday, June 01, 2005
*~*~*~*~*~*~*~*~*~*~*~*~*~*~
I always enjoy my taxi rides.
Took a taxi back home after facial. The moment I closed the door, I laughed the whole journey throughout. The way the taxi driver spoke was so funny and he was very jovial.
Although i was really tired after my facial, I was really amused by him.
He first asked me about the ERP thing to be implemented on Saturdays in Orchard.. then he went about telling me that it will still be very crowded cos Friday is lover's night, Saturday is saturday night fever and Sunday is family day.
He proceeded to ask me whether I'm married.. I told him no, but i'm attached.
Than he said
" oh... than you should be in Orchard road on friday nights hey hey"
wah liao.. Sounds like 吴宗宪 lo.. (btw the driver is non-chinese)"My bf is not in singapore, so I seldom catch movies when he's not around""oh really! he's studying overseas! u got yourself a good one!

wee weet!

"

He went on to praise overseas graduates saying that they have more exposure, more independent and they can take care of themselves, do their own laundry compared to local graduates who according to him is
"everything MUM do, not MUM do than MAID do"
wahhahah!
I'm actually guilty of some of the things he mentioned.. but i didnt tell him i'm a local graduate and he didnt ask either.. that is what made the whole conversation so funny.
I'm practically listening to him criticizing myself.
Such a coincidence that i heard some complains from a "soon-to-be ORDed undergraduate" while i was about to post my blog..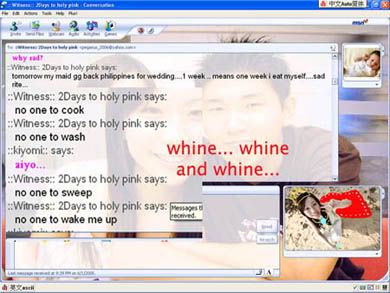 forgot to add.. below still have "
no one to make milo for me at nite, no one cook maggie for me..
" wahhahahh..
Than the unker went on to talk about the Army.
Wah liao.. army talk again.. I heard TONS of it that I feel that I can write a story on army life in the first-person account.
Anyway, it was a fun ride home.
~~~~~~~~~~~~~~~~~~~~~~~~~~~~~~~~~~~
Side note
I managed to persuade 2 people living in Bukit Panjang to come to my house in Kallang for our rehearsal this Saturday! yoohoo!
Helpful links to my taiwan trip
Although our air tickets are not confirmed yet,
I have consolidated some links that are useful for Taiwan trips, just in case any of you guys are going there as well.
-Rainbow Hotel-
(for this website, i think have to clear the cookies under tools, options than can see.. dont ask me why, i dont know too..)
-Ezgo.taipei-
-Taiwan map-
-台北市观光旅游网(this is good!)-
-Tourist attractions by MRT! (must print)-
-Travel suggestions! in English!-
-Maps must print!-
-六福村主题乐园-
Darren
, exams exams.. You are exempted..dont need to read... :D
Gerald
, too bad, some are in chinese, you STILL HAVE to read them.
Alex
mah.. you go and confirm your leave TOMORROW.. than you read wahahahh
Kiyo 到此一游 @ 10:11 PM