Wednesday, June 08, 2005
*~*~*~*~*~*~*~*~*~*~*~*~*~*~
...
SFC is holding it's 2nd bday bash on the 22nd June in Zouk and I have RSVP-ed! I hope I am in one of the 150 people.
Virgin trip to Zouk though.. oh my gawd.. I sound so innocent or maybe..
Sua Gu
..
The last time I went clubbing was the new year count down with my bf..On average, I think I go once or twice......
A YEAR
Okie.. let's do some recalling on what happened in the Samsung birthday bash one year ago.
The sfc babe was chosen...
Pep and fiona... fiona MIA le..

Wont post my picture cos i seriously look like SAI...
Within this year, we had many other activities..really glad to know u guys..
Our first ktv session..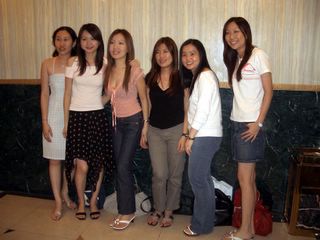 2nd ktv session..
Both MIA le..haha
Still not tired of ktv sessions..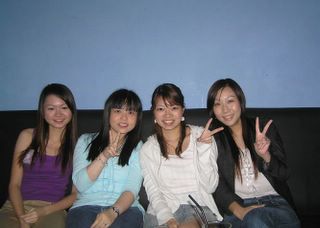 At last.. something different.. sentosa picture taking session.

We found friends/shopping kakis/gym kaki/cheong-ing kaki (excluding me la) in one another. Some people have left our group, new people have joined, but the core people are still around..
And now the 2nd bash is coming on a weekday again. I can foresee myself falling sick the next day..
~~~~~~~~~~~~~~~~~~~~~~
Snippets
Fashion Buys
I bought a spag yesterday to team up with my skirt. I'm trying to restrain myself from getting a straw bag.. haha Dont want to look like identical triplets with pep and zen if we ever go out together. I got a sequin one.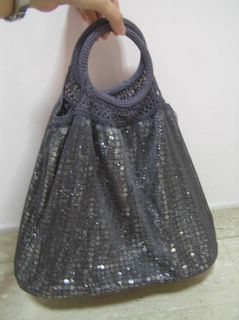 I cant decide which colour I should get just now & the young male SA actually started to give me suggestions:
"Pink 的比较可爱.."
"这个,这个嘛..这个不可以啦..看起来很
AUNTIE
leh"
WAhahahaha.. I burst out laughing. He must have thought that I am crazy cos i laughed nonstop for 5 mins.. He reminded me of xdd.
Travel
Mood isnt really good today. Tomorrow is the dateline for booking our air tickets to Taiwan.. Can you imagine that we are departing next month and we still have not reserved our tickets yet..I wish Alex will be able to join us.. I wonder what is wrong with his boss!? Kept delaying in approving his leave and doesnt seem to have any wish in giving him an answer. argghhh!
I'm learning..
macromedia flash from Bengtuan soon..Too lazy to read up the books myself. Think he teach me faster.
Love
When i'm always feeling down and out about work, his email will pop in miraculously. He is having problems with his thesis and exams.. and i think he must be really thin now cos I know that he has not been sleeping well and eating well too.. i will need to fatten him up when he comes back in 2 weeks time.
Kiyo 到此一游 @ 9:25 PM