Monday, May 02, 2005
*~*~*~*~*~*~*~*~*~*~*~*~*~*~
SFC picnic cum Beach Babes/Hunks session
Okie.. I woke up at 7.05 am today.. Don't know why can.
Back to the main topic.
Our First ever SFC picnic cum Beach Babes/Hunks Event will be launched on...
MAY 14th (Saturday)
People confirmed are
1) ME ME!
Items I'm bringing
a) Sandwiches and toast for about 15 people. Just to 'gian' you all abit..
Sandwiches will consist of cheese toast, peanut butter and strawberry (special request by somebody) and MAYBE some kaya toast (AH LI style.. not AH KUN)
I'm a person that cares about image. So going for a picnic, must bring 'accessories' too hahah
I asked my mum to dig out the stuff my sister bought years ago when she went on picnics with her friends. So she found a mat..
b) A mat that can sit about 3-4 girls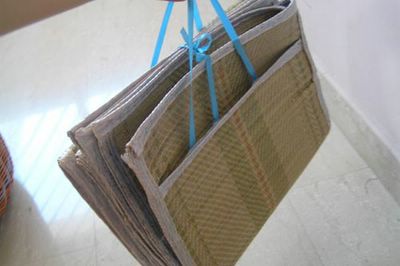 Than I remembered there is this picnic basket.. My mum brought it out.
The moment I looked at it, I burst out into laughter.
I THOUGHT it will look light brown (something like this below)
But it is something like this..
I can foresee what people like xdd or Winston might say to me if they see me carrying this to Sentosa.
"AUNTIE ! BUEY CAI ar.."...
I have abandoned the idea of bringing this...
Than my mum even BETTER...
She brought out something even more zan!
-_-........
I laughed even louder and tell her
"Mummy ar.. I'm not going to pray at the temple you know"
There are people whom I didnt indicate what to bring.. please tell me u will agree to pay about $8 per person to pay for the entrance fees of the whole group. I think it's very fair this way...
Dont you think so?? hee hee
Kiyo 到此一游 @ 9:57 PM