Wednesday, May 04, 2005
*~*~*~*~*~*~*~*~*~*~*~*~*~*~
KTV! lalala~
Went to this ktv at chinatown with some Geyao uni friends today..
And it really cost only about 10 dollars! The package was 7-Midnight.. Anyway, I still like Kbox.
Red bomb! (not exactly red). My first close friend that is going to get married.. :)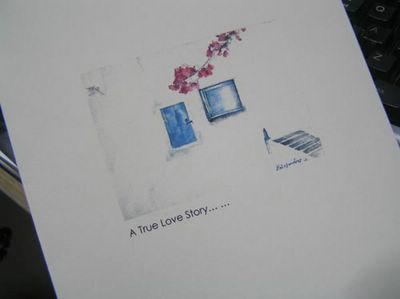 This is made by themselves and this picture was a water colour painting done by my friend, scanned and printed out! Really nice!
Flipping the card open...
We discussed some of the details of the program schedule for her BIG DAY.
I am supposed to stand on the stage.. be a vase..look pretty..pass flowers to the bride and groom so that they can give to their parents after a short speech..
and also sing..There will be about 4 songs that day I guess.. sung by different people but all from Geyao..
Stress man... all very zai..
Starting to get butterflies in my stomach..
I will need to practise a few more times.. so.. a ktv will be organized!
haha but this time round i will only ask my 'clicks' cos i need practise..
XDD will be the official photographer for the event...
He is getting better & better at this, man... & when my turn comes, he will be in the MASTER category liao.hahah...
So we chose some songs, and started singing... It's been a long time since i hear pigzilla and jiafa sing.. missed their good voices..Can hear them at Rockacola.com too.. Their compositions are there..
Going to collect my cheque tomorrow at julian's office for the japanese translation i've done! haha..and also collecting my renewed passport with a super ugly photo. I didnt bother to take a new one..
Kiyo 到此一游 @ 10:55 PM